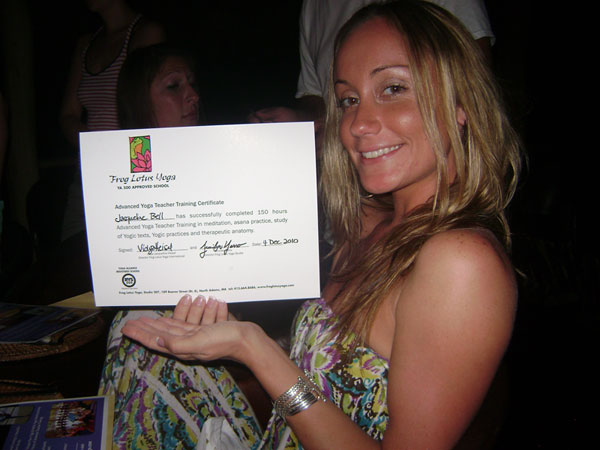 I started my teaching journey early in 2009 and completed 500 hours of teacher training with studies in Costa Rica, Mexico and India with Frog Lotus Yoga International in 2011.
I am currently certified and teaching yoga in Winnipeg, Manitoba, Canada.
Additionally I am certified to teach paddleboard yoga or SUP yoga through H2YO, with trainings completed in Orlando, 2013. I have taught thousands of hours to date and will continue to practice and teach for thousands more. I enjoy seeing students light up and enjoy yoga at any and all levels. Empowered by my many teachers over the years, I feel obligated to teach the most authentic, safe and meaningful yoga to every student I meet from beginners and first timers to the most advanced students out there. I am convinced that Yoga is, as B.K.S. Iyengar calls it, a path to holistic health. Yoga, practiced regularly, will make you strong, supple, radiantly healthy and give you a deep sense of well-being. Yogic philosophy will bring unimaginable depth and meaning to your life and offer you an amazing path to waking up and living your life more fully and more consciously. My classes produce strength and vitality for the body and mind, mental and physical balance, detoxification, flexibility and stamina.
Areas of expertise: Asana Practice, Meditation, History of Yoga, Study of Yoga Texts, Applied Anatomy, Ayurveda, Pranayama, Therapeutic
I offer Group Classes; Group Series (4-8wk predetermined theme); Private/Semi-Private Classes (I can come to you if you prefer); Corporate Classes; Kids Classes; Prenatal Yoga; Family Yoga; Mom and Baby Yoga; Paddle Board Yoga (FUN!); Aerial Yoga, Yoga for Special Occasions (weddings etc…); and Guided Mediation Sessions
Benefits of yoga include but are not limited too: Flexibility, Strength, Improved Posture, Increased Lung Capacity, Stress Reduction and Calming Effects, Improved Concentration and Mood, Cardio Vascular Health as well as other Health Benefits (Asthma, Back Pain, Arthritis, Insomnia, Multiple Sclerosis), Positive effects for Learning and Memory, Slowing of the Aging Process, Improvement of Energy Levels
These are real testimonials from some of my students.  Referrals are available upon request!
I just want to say thank you for providing the opportunity to participate in something so uplifting. It has truly done a lot for the stress in my life and prob more in others cases. You are a doll Jackie!
You are super yoga star Jackie!
Best yoga teacher, instructor, lady ever!
Jackie! Last night's yoga class was just what I needed!! My body feels relaxed, stretched, & renewed today!! I will be a regular attendee!! I'm a believer! Thanks to my awesome instructor!!! 😉
Rise up this morning, smile with the rising sun! Started the morning off right with a little morning beach yoga (Thanks Jacqueline Bell!) Now it's time to head back to the beach with mi amigos to enjoy my day off!
Getting back to yoga tonight was amazing, made me feel so relaxed and happy to be alive and strong!  Thank you so much Jacqueline Bell!!